The Portland Bench | Street Seat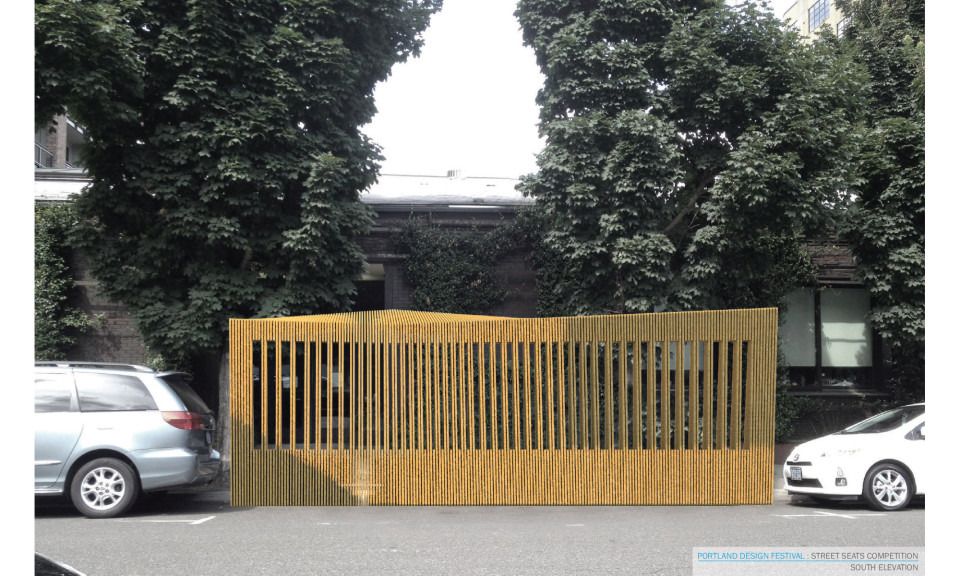 Portland holds a unique place in today's society as a creative, innovative hub of city planning, sustainable architecture and design.
The Portland Street Seats program is an example of ways Portland is working to increase livability and focus the urban environment on the human experience. Like the system of neighborhood parks that Portlanders flock to, parklettes can be the next wave of infrastructure to transform our city. There is great opportunity to turn this valuable public real estate of streets and vast parking lots into opportunities for public seating, resting spots, and shelters with no monetary attachment.
This proposal is designed with Portland's pedestrians in mind. The subtle angle of the Portland bench draws people off the sidewalk and offers a respite from the busy street. The flowing canopy speaks to the speed and movement of traffic but offers shade and shelter to those walking by on a hot or rainy day. The porous back opens up to allow views, airflow and dramatic light and shadows, while supporting the canopy and giving users a comfortbale backrest. we envision The Portland Bench as a soon to be adored asset to Portland's city streets.
To achieve the dynamic form we have explored a modeling and fabrication technique that will make use of digital manufacturing. We have derived a series of 192 sections, each unique and each able to fit within a single piece of plywood. to achieve this we designed three unique sections and extrapolated between them to create a dynamic flowing form. This form was then sliced into 192 3/4" sections with 1/2" gaps between. Each unique section will be digitally manufactured by a CNC machine. This technique will allow for us to rapidly manufacture the design off site within the tight schedule, and will be easily shippable as individual sections to the site. Once on site, our team can assemble the final design within days.
The design of The Portland Bench offers a bold and eye catching image for the future of Portland's new public space. These street seats will become a loved addition to Portland's urban environment and could easily multiply and spread throughout the city such as The Benson Bubblers, "put a bird on it" stickers, and Stumptown Coffee.
Here we offer The Portland Bench.
Credit

Lucas Gray - Designer

Location

Portland, OR
The Center for Architecture