Circuit-Tree Interactive Wall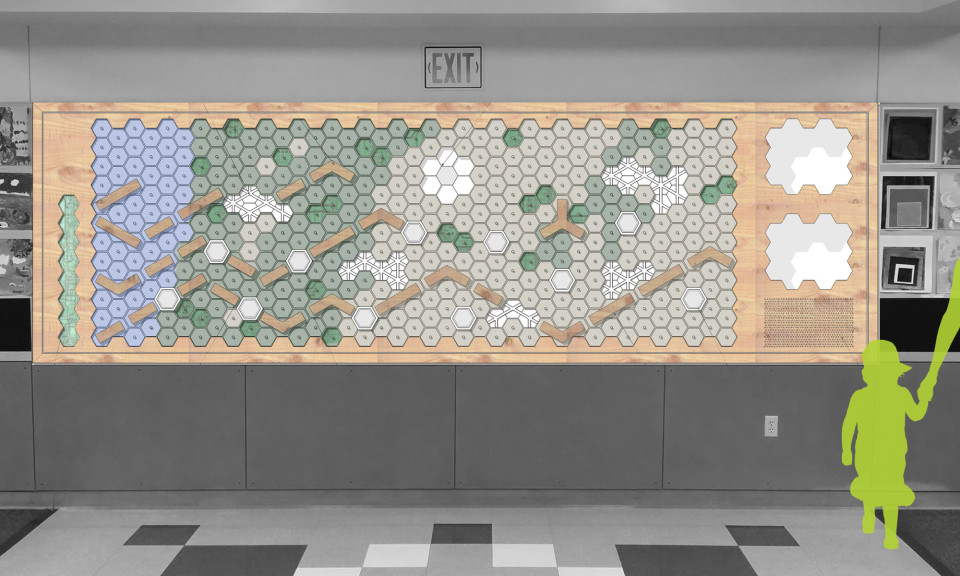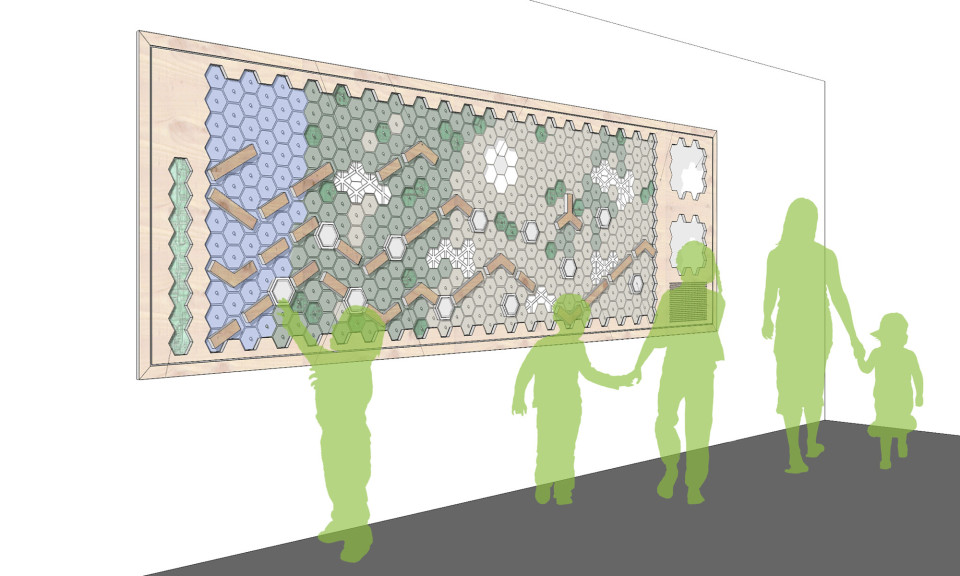 ADX, Propel Studio, Forest Park Elementary and Intel collaborated to create a unique, playful, and educational interactive wall installation for the Forest Park School in NW Portland
The concept started with envisioning a giant Snap Circuit set that students can manipulate. Scaled up to cover an entire wall 14 feet long by 4 feet high, this wall would have a variety of inputs, pathways and outputs allowing students to playfully create and experiment with how a circuit can work. The interactive portion of the installation will focus on 4 modules. There will be audio elements including microphones and speakers, creating the ability to record sounds and project them. Further, we will include video equipment that could display artwork, graphics, information and videos that could be controlled by school administrators as well as be manipulated by the interactive wall. This module would include a flat screen monitor and/or short throw projectors to engage the walls, ceiling and floor around the installation. The third module will include motors, and moving parts that would be activated by other elements of the wall. Finally the wall would explore connectivity. Could this installation have a personality or a voice through social media? Could the wall tweet as certain elements were activated? Can the wall have a facebook page that shares artwork and other graphics created through the interactive interface? The installation should have a life outside of the school building itself and possibly engage the larger community.
How amazing would it be if this wall had satellites at Intel, ADX, and other schools throughout Portland, where messages could be shared, people could comment on student artwork, or engage in conversation about lessons learned? Could there be games or challenges where the larger network of satellite walls can communicate with each other and users could compete or collaborate to accomplish goals and challenges? This conceptual design acts as an initial inspiration study, as we did background research, precedent studies and brainstormed possible themes. For each selected theme we then delved into a series of material studies and color scheme options that could inform further design explorations. The idea of this document is to inspire some ideas on how this thing could look and feel. How can different materials create layers that make this installation inspiring for the students, faculty, and parents of the school.
As an educational tool, the Circuit-Tree Interactive Wall installation should engage students of all ages and be a tool the teachers could use within their curriculum. The wall should be programmed to adapt and morph over time, drawing information from the environment, the internet and the input from users to create unique experiences.
Credit

Propel Studio,
ADX Portland
Intel
Portland Public Schools
Design Museum Portland

Location

Portland, OR